What is full stack marketing, why is it important, and what makes a good full stack marketer? Learn more in this blog!
What exactly is a Full stack marketer?
in its simplest definition, a full stack marketer is an individual well versed in all aspects of digital marketing, can develop a comprehensive digital marketing plan suitable for your organization, and then implementing said plan. We will break it down further in today's article.
Marketing as a whole
Marketing has been around ever since we've had things to sell. Since its inception thousands of years ago, the idea of "marketing," and the way we do it, has changed significantly. Technology has played a large role in changing the way marketers do their jobs. In 1440, the Gutenberg press revolutionized how businesses could disseminate information about their brand. In the 1940s, radio advertising allowed marketers to reach customers on a more personal level – right in their living rooms. Today, we have tools like automation, Google Analytics, social media, search engine optimization, and more to help make our jobs easier.

Full stack marketing is a new concept, and one we hear often when it comes to digital marketing. We'll cover everything you need to know about full stack marketing: what is it, why is it important, and what makes a good full stack marketer. Let's dive in.
Where did the term come from?
First coined by Marcelo Calbucci and Morgan Brown as a derivation of the more commonly known "full stack developer," full stack marketing is a relatively new profession, and refers to a marketing specialist who weaves between different disciplines—a jack of all trades and a master of all. "Full stack" refers to a marketer who has experience in multiple domains, including:
– Writing and blogging
– Research
– Web development
– Web design
– Analytics and reporting
– Growth hacking
– Influencer marketing
– Search engine optimization
– Pay-per-click advertising
– Email marketing
– Landing page creation and optimization
– Social media marketing
– Optimization for mobile
– Partnership acquisition and research
– Public relations
– Customer service and customer relations
It's important to note that not all full stack marketers are experts in all of these fields. A full stack marketer can be an expert in any handful of tasks on this list, and jump between tasks from one day to the next. The full stack marketer is a product of the demands caused by our fast-evolving digital world. Full stack marketers are often referred to as "marketing ninjas," "guerrilla marketers," or "marketing gurus." In general, full stack marketers are resilient, curious, motivated, and charismatic, and push boundaries (in a good way) on a daily basis.
Why is full stack marketing so important?
If you run a business and are interested in hiring a marketer, there are myriad benefits of hiring an expert full stack marketer. Full stack marketers engage customers in numerous ways, and create compelling and intriguing content that attracts new prospects into the sales funnel. Here are just a few of the advantages of employing a full stack marketer at your company:
Less oversight required. By nature, full stack marketers are independent self-starters. This means much less oversight from managers and VPs, who can put their time and resources into other projects.
Reduced costs. Because full stack marketers are jacks of all trades, their ability to take on many roles at once reduces the need (and costs) associated with hiring an individual for each position.
Faster development cycles. By removing the cross-collaboration element that would otherwise occur during product development cycles, businesses can achieve faster development cycles and cleaner releases.
Diversifies strategy. The beauty of hiring a full stack marketer is the wide array of initiatives it opens the business up to partake in. On Monday, you might get a brand-new, kick-ass landing page, on Tuesday a bumper video for social media, and at the end the week a new blog post series. The sky's the limit!
Ability to try new ideas. Have you always wanted to host a webinar, invite an expert to share a blog on your site, or attend a popular virtual event, but just haven't had the time or resources? A full stack marketer is always looking for new ideas to build out their digital marketing strategy.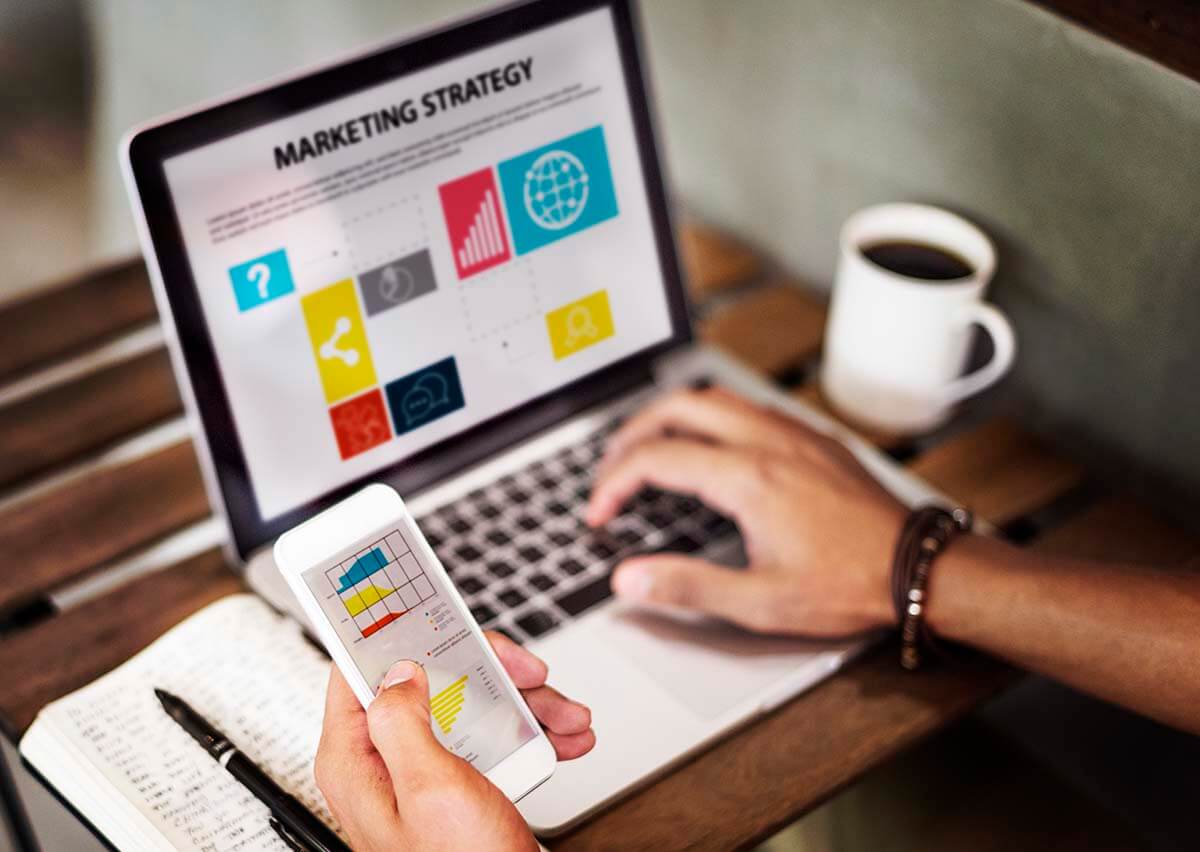 What makes a good full stack marketer?
Making the decision to hire a full stack marketer is a big move – and it's a good one. As you start to sift through the resumes, here are a few key skills you should be looking for:
Motivation. Hiring a full stack marketer requires a certain level of trust. You are essentially handing over a big side of the business and saying; "here, work your magic." A good full stack marketer has the motivation to get things done efficiently and work on a deadline without being reminded of what needs to be done.
Resilience. Like in any profession, projects sometimes fail or are not as successful as predicted for reasons beyond one's control. The best full stack marketers know how to take these moments in stride and learn from their mistakes.
Positivity. Although the full stack marketer often works alone, it is important for this individual to uphold a positive and optimistic attitude towards their work and the company they are working for. Bringing positive energy and enthusiasm will come through in the work they do – especially when it comes to content.
Technical expertise. There are certain "hard skills" that are an absolute must for full stack marketers. Knowledge of email marketing platforms, CRMs, Google Analytics, and other pay-per-click channels is essential to the success of their strategies. Full stack marketers are great at switching between and merging a wide variety of platforms.
Agility. When you hire a full stack marketer, they will likely have a preferred way of working. That's all good and fine, but there must be some flexibility in their willingness to adapt to the day-to-day operations of your business. The best full stack marketers are flexible, adaptable, and agile when it comes to integrating into a new work environment.
Communication. Communication is a biggie when it comes to hiring a full stack marketer. Most of the work they do is independent, but there will be times when this individual must share their progress and strategy with stakeholders. Having well-rounded communication skills will ensure these meetings go smoothly and that information is communicated effectively.
Copywriting. Although writing only makes up one piece of a full stack marketer's workload, it is perhaps the biggest piece. Storytelling and copywriting are crucial skills when it comes to marketing a business and helping a brand stand out among competitors.
Where do full stack marketers fit in?
Although full stack marketers can be seen across many industries, and in companies of all sizes, perhaps the most fitting of businesses to hire this type of marketer is the startup. With smaller teams and a tighter budget, startups have a lot to gain from hiring one person who can do their SEO, content creation, email marketing, web design, social media management, and strategy all in one.
What types of tools do full stack marketers use to do business?
The full stack marketer can't do their job without the understanding and implementation of high-performance automation, analytics, and publication tools into their workflow. These tools are used for everything from automating email marketing campaigns to managing complex sales funnels to monitoring social media feeds. Here are some examples of common paid and free marketing tools used by those in the full stack marketing profession:
Google Analytics – Google Analytics is the go-to software used to analyze details about a website's visitors. It is designed to boost ROI with more relevant web traffic.
WordPress – WordPress is one of the most popular, straightforward, and easy ways for marketers to create websites. It is a free and open-source content management system written in PHP.
Medium – This platform is a treasure trove for content. It is a tool commonly used by bloggers and authors, and is used to amplify content and spread reach.
Zoho CRM– Zoho CRM is perhaps one of the most well-known platforms for customer relationship management (CRM). It gives all teams (sales, marketing, product, services) a shared view of customers and their behaviours. Learn more about Zoho with this article. Zoho authorized partners & what you need to know.
Google Trends – Google Trends is great for research, as it shows information about how a certain keyword is performing locally, nationally, or globally. This free tool is incredibly helpful for market research.
Zoho Campaigns– Zoho Campaigns is an out-of-the-box email and marketing platform primarily for smaller businesses. This tool helps marketers build a better user acquisition strategy for any brand.PaintedRobot specializes in Email Marketing with Zoho Campaigns & can help improve deliverability. Other tools include Sendgrid & Mailchimp.
Zoho – This platform is a web-based office suite with tools like web conferencing, word processing, note taking, project management, invoicing, customer relationship management, and more. It is becoming increasingly popular among small and medium sized businesses.
Unbounce – This is a key tool when it comes to publishing and testing landing pages. Unbounce allows even the most inexperienced web designers to create beautiful and user friendly landing pages that convert.
Hotjar – This is a really cool platform and one being used more and more by full stack marketers across the globe. It provides a real-time visual record of visitors' actions and behaviours on a website. Heatmaps allow users to see exactly where, and how much, users are clicking on different elements of a site.
Employing a full stack marketer is like hiring a one-stop-shop for all your company's marketing needs. Professionals in this domain have extensive background knowledge to propel a business in all areas, including social media marketing, search engine optimization, content creation, web design and development, and lead generation. PaintedRobot provides these services and more. For more information about our marketing offerings, get in touch with someone on the team today.